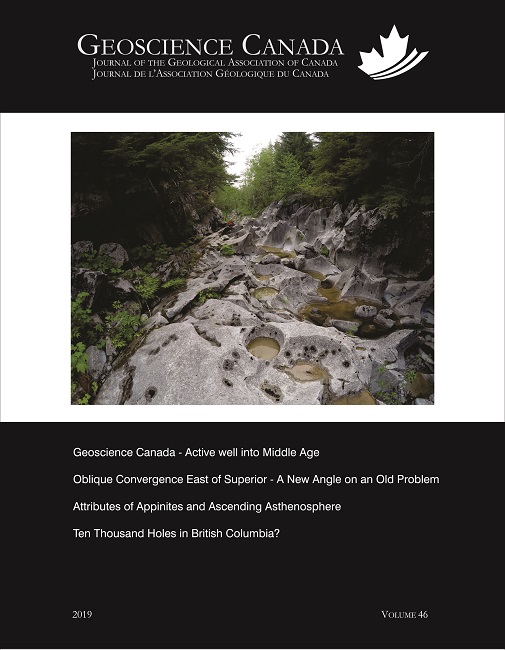 How to Cite
Stokes, T. R., & Griffiths, P. A. (2019). An Overview of the Karst Areas in British Columbia, Canada. Geoscience Canada, 46(1), 49-66. https://doi.org/10.12789/geocanj.2019.46.145
Abstract
Karst is a three-dimensional landscape that occurs in soluble bedrock (typically limestone, marble, dolostone, gypsum or halite) and is defined by a solutionally weathered surface, a subsurface drainage system (where conduit-flow dominates), and underground openings and caves. Karst can host unique flora and subsurface fauna, as well as a wide range of other scientific, recreational and cultural values. Karst and potential karst areas underlie approximately 10% of British Columbia (BC), but the distribution and extent of this landscape has yet to be fully explored and delineated. Some of the most extensive and well-developed karst areas occur within the forested
limestone areas of coastal BC, such as on Vancouver Island and Haida Gwaii, where numerous surface karst features and caves are known. Karst in the interior plateau regions of British Columbia is less well known, being in part covered by thick deposits of glacial materials. Alpine karst regions are most apparent in the Rocky Mountains where there are limestone plateaus, karst drainages and cave systems that have close connections to past and present glacial systems. Mapping of karst is a critical component for any land-use or resource development activity in all regions of British Columbia, as the environmental impacts on karst and its associated values are potentially significant. The regional distribution of karst in BC is not well mapped, with only an office-based reconnaissance karst potential map (1:250,000-scale) and a related database completed in 1999. A renewed effort should now be made to better map karst across British Columbia using digital bedrock mapping data released in 2017, combined with more recent satellite imagery and improved field knowledge.

RÉSUMÉ
Le karst est un paysage tridimensionnel qui se présente dans le substrat rocheux soluble (généralement calcaire, marbre, dolomite, gypse ou halite) et est défini par une surface altérée par dissolution, un système de drainage souterrain (où l'écoulement par conduit domine) et des ouvertures et cavernes souterraines. Le karst peut abriter une flore et une faune souterraine unique, ainsi qu'une grande variété d'autres ressources scientifiques, de loisir et culturelles. Les zones karstiques et potentiellement karstiques constituent environ 10% de la surface de la Colombie-Britannique, mais la répartition et l'étendue de ce paysage n'a pas été complètement explorées et circonscrites. Certaines des zones karstiques les plus étendues et les mieux développées se trouvent dans les calcaires des zones calcaires boisées de la côte de la Colombie-Britannique, telles que l'île de Vancouver et l'archipel de Haida Gwaii, où l'on connaît de nombreuses caractéristiques karstiques de surface et des cavernes. Le karst des régions des plateaux intérieurs de la Colombie-Britannique est moins bien connu, étant en partie recouvert d'épais dépôts de matériaux glaciaires. Les régions karstiques alpines sont plus apparentes dans les montagnes Rocheuses où se trouvent des plateaux calcaires, des bassins de drainage karstiques et des systèmes de cavernes étroitement liés aux systèmes glaciaires passés et contemporains. La cartographie du karst est une constituante essentielle de toute activité d'utilisation du terrain ou de développement des ressources dans toutes les régions de la Colombie-Britannique, car les impacts environnementaux sur le karst et ses bénéfices associés sont potentiellement importants. La distribution régionale et les caractéristiques des karsts en Colombie-Britannique ne sont pas bien cartographiées, avec seulement une carte de reconnaissance du potentiel karstique établie par une étude de bureau (à l'échelle de 1/250 000) et une base de données associée, complétées en 1999. Il faut aujourd'hui améliorer la cartographie de karsts en Colombie-Britannique en utilisant les données numériques de cartographie du substrat rocheux publiées en 2017, combinées avec des images satellite plus récentes et à une meilleure connaissance du terrain.