À la découverte des Heures Masmines et Bouthillier, manuscrit latin et flamand des Archives des jésuites au Canada
Abstract
The article explores the heraldic, liturgical, hagiographical, and iconographic components of an illuminated Book of Hours (c.1500) now in the Jesuit Archives in Montreal. Internal evidence points to Charles de Masmines, a member of a prominent Flemish family, as the manuscript's first private owner (with unclear links to the Ghistelles family) and also to its last private owner, the Montrealer Pierre Bouthillier. The article examines the unusual presentation of the Masmines and Ghistelles coats of arms and discusses the manuscript's rare use of the calendar, examines several prayers to protect against the Black Death, and identifies the illuminators of this codex as the Masters of Raphaël de Mercatellis.
Keywords: Archive of the Jesuits in Canada ms. 1 (ms. 0900-0010.2.1), manuscript studies, medieval manuscripts, codicology, text and image, Books of Hours, coats of arms, heraldry, Ghistelles, Masmines, liturgical calendar, liturgical use, Masters of Raphael de Mercatellis, prayers against the plague, Saint Erasmus (or Elmo)
Résumé
Cet article explore les composantes héraldiques, liturgiques, hagiographiques et iconographiques d'un livre d'Heures enluminé (vers 1500) conservé aux Archives des Jésuites à Montréal. Des inscriptions et images permettent l'identification du premier de ses possesseurs privés, le Flamand Charles de Masmines, ainsi que de son dernier possesseur privé, le Montréalais Pierre Bouthillier. La présentation inhabituelle des armoiries des familles Masmines et Ghistelles, l'usage singulier du calendrier et les prières contre la peste sont examinés, ainsi que les enluminures, attribuées aux Maîtres de Raphaël de Mercatel.
Mots-clés : Les Archives des jésuites au Canada ms. 1 (ms. 0900-0010.2.1), étude des manuscrits, manuscrits médiévaux, codicologie, texte et image, Livres d'Heures, armoiries, héraldique, Ghistelles, Masmines, calendrier liturgique, usage liturgique, Maîtres de Raphaël de Mercatel, prières contre la peste, Saint Erasme (ou Elme)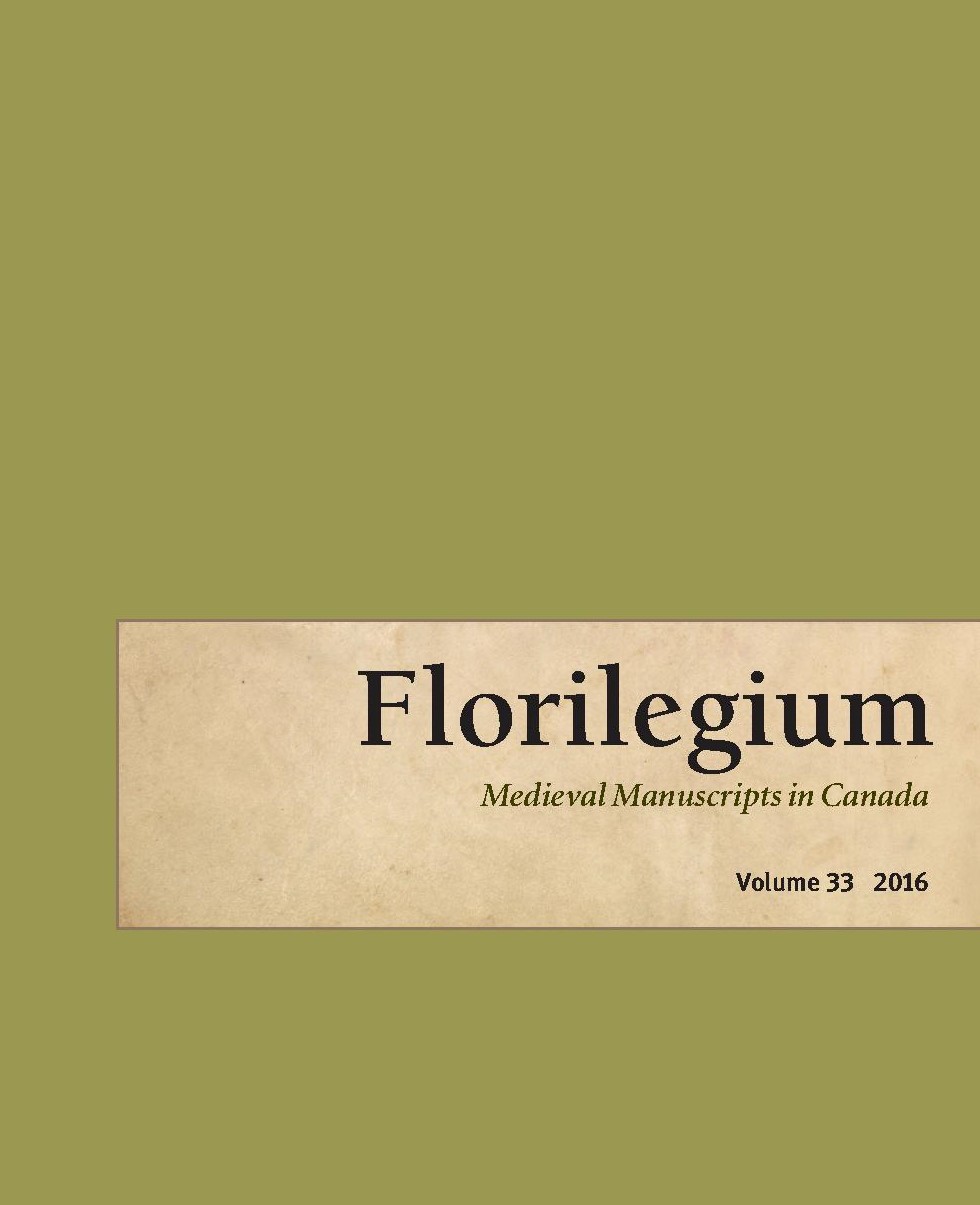 How to Cite
Dunn-Lardeau, B. . (2020). À la découverte des Heures Masmines et Bouthillier, manuscrit latin et flamand des Archives des jésuites au Canada. Florilegium, 33, 123–142. Retrieved from https://journals.lib.unb.ca/index.php/flor/article/view/31192