The Book of the Head and The Book of Skin: Compilation and Decompilation in Two Medieval Manuscripts of Practical Medicine in the Osler Library, McGill University
Abstract
Abstract
Two fifteenth-century codices in the Osler Library illustrate processes of compilation and "decompilation" in the domain of medicine. MS 7586 contains selections from a comprehensive manual of therapeutics, but only from the section concerning the head. The text in MS 7579 is advertised as a general compilation of therapeutics in six parts; but only the first part, covering the skin and surgical interventions, is included. The first text is a decompilation; the second is a compilation-in-progress.
Keywords: McGill University Osler Library MS 7579, McGill University Osler Library MS 7586, compilation, decompilation, medieval manuscripts, history of medicine, antidotes, medical recipes, surgery, cosmetics, Pantegni practica, Copiosa, Euporista, Rhazes, Liber ad Almansorem, Avicenna, Johannes Reglus
Résumé
Deux codices du XIIe siècle conservés à la Bibliothèque Osler illustrent des processus de compilation et de « décompilation » dans le domaine de la médecine. MS 7586 comprend des extraits d'un manuel compréhensif de thérapeutique, mais seulement à partir de la section concernant la tête. Le texte de MS 7579, en revanche, est présenté comme une compilation générale de thérapeutique en six parties ; mais seule la première partie est inclue, portant sur la peau et les interventions chirurgicales. Le premier texte est une décompilation ; le second est une compilation en cours de préparation.
Mots-clés : McGill University Osler Library MS 7579, McGill University Osler Library MS 7586, compilation, décompilation, manuscrits médiévaux, histoire de la médecine, antidotes, recettes médicales, chirurgie, cosmétique, Pantegni practica, Copiosa, Euporista, Rhazès, Liber ad Almansorem, Avicenna, Johannes Reglus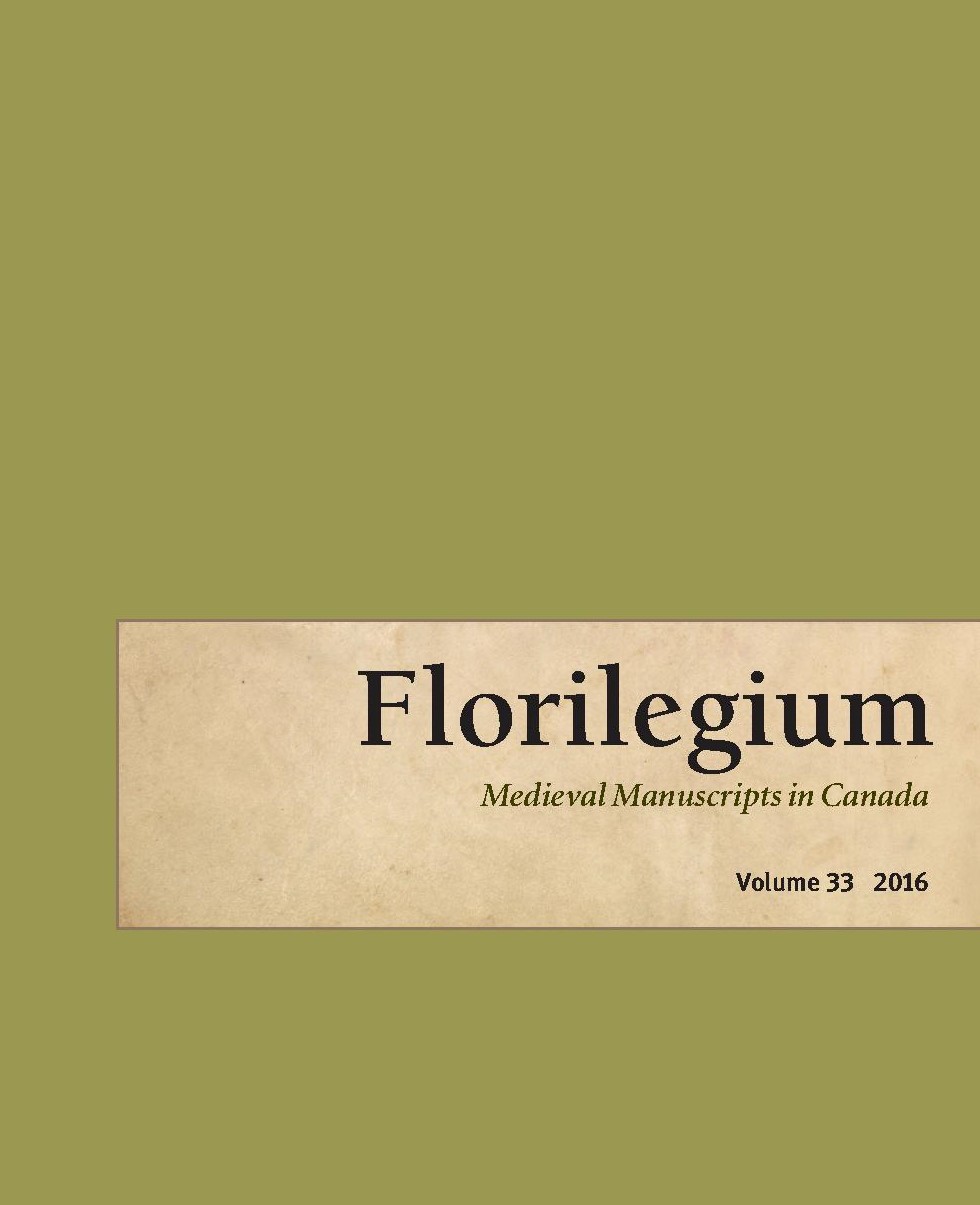 How to Cite
Wallis, F. (2020). The Book of the Head and The Book of Skin: Compilation and Decompilation in Two Medieval Manuscripts of Practical Medicine in the Osler Library, McGill University. Florilegium, 33, 15–44. Retrieved from https://journals.lib.unb.ca/index.php/flor/article/view/31185