Fulling Linen, Haunting Clear Waters, and Crying Bitter Tears: Two Middle English Versions of Aelred of Rievaulx's De institutione inclusarum
Abstract
For the full article, please visit Project MUSE or click here (subscribers only).
This article examines two late-medieval English translations of Aelred of Rievaulx's spiritual treatise De institutione inclusarum, which is originally addressed to a female anchorite but which reaches a wider audience in its later manifestations. Imagery connected with water, a particularly potent and enduring Christian symbol, is used as a case study to reveal the subtle but significant variations between the two versions. Analysis of the use of water as a literary metaphor in both versions shows that, whereas the earlier translation emphasizes spiritual longing and anxiety, the later version is more concerned with practical encouragement and offers its readers a more hopeful spiritual experience.
Résumé
Cette étude porte sur deux traductions anglaises du Moyen Âge tardif du traité spirituel d'Aelred de Rievaulx intitulé De institutione inclusarum, adressé à l'origine à une recluse mais ayant atteint par la suite un public plus large. L'étude de cas des images liées à l'eau, un symbole chrétien particulièrement puissant et durable, permet de révéler les variations subtiles mais significatives entre les deux versions. L'analyse de l'eau comme symbole littéraire dans les deux versions montre que, alors que la première traduction met l'accent sur l'envie et l'angoisse spirituelle, la version plus tardive s'intéresse davantage à l'encouragement pratique, offrant à la lectrice une expérience spirituelle plus optimiste.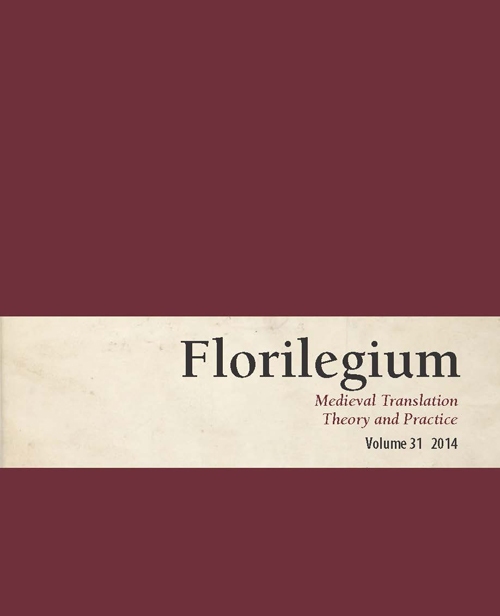 How to Cite
Howes, H. E. (2017). Fulling Linen, Haunting Clear Waters, and Crying Bitter Tears: Two Middle English Versions of Aelred of Rievaulx's De institutione inclusarum. Florilegium, 31, 139–164. Retrieved from https://journals.lib.unb.ca/index.php/flor/article/view/25662