Le Livre du ciel et du monde de Nicole Oresme : La traduction commentée comme « lieu de passage »
Abstract
For the full article, please visit Project MUSE or click here (subscribers only).
This article examines certain characteristics of Nicole Oresme's Livre du ciel et du monde (1377), a translation of Aristotle's De caelo made at the request of Charles V, in order to study the links between translation and the commentary, adaptation, and popularization of knowledge. Although the numerous glosses which accompany the translation have frequently attracted scholars' attention because of their importance to the history of science, a close analysis of some glosses suggests that this translation is, in fact, a "place of passage" for the transmission and discussion of language, culture, and knowledge. This focus permits a demonstration of the profound epistemological transformation carried out by Oresme and highlights his role in revolutionizing the concept of translation.
Résumé
Cet article examine certaines caractéristiques du Livre du ciel et du monde de Nicole Oresme (la traduction du De caelo d'Aristote qu'il effectua en 1377 à la demande de Charles V) afin de repenser les relations entre traduction et commentaire, adaptation et vulgarisation du savoir. En effet, si l'importance des gloses qui accompagnent cette traduction a été soulignée à plusieurs reprises par la critique pour le domaine de l'histoire des sciences, une analyse précise de certaines d'entre elles permettra d'envisager le texte comme un lieu de passage de la langue, de la culture et du savoir. Ce point de vue permet de montrer la profonde transformation épistémologique que subit le savoir dans le texte et de souligner à quel point Oresme révolutionne le concept de traduction.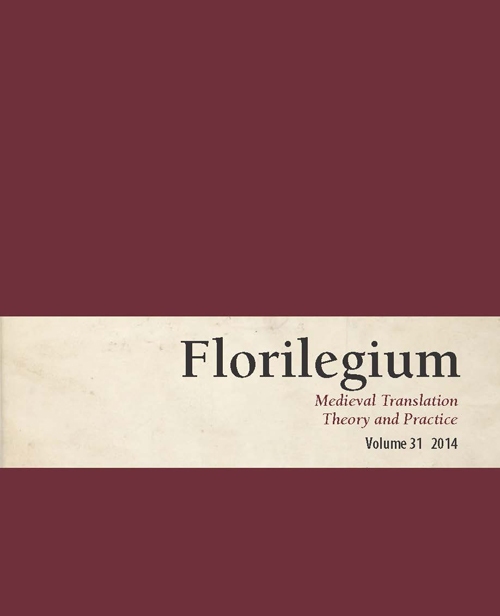 How to Cite
Lambert-Taffoureau, P. (2017). Le Livre du ciel et du monde de Nicole Oresme : La traduction commentée comme « lieu de passage ». Florilegium, 31, 77–103. Retrieved from https://journals.lib.unb.ca/index.php/flor/article/view/25659