The Time of the Translator in the Ovide moralisé
Abstract
For the full article, please visit Project MUSE or click here (subscribers only). 
With reference to Derrida and Benjamin, this article scrutinizes the complex time frame proposed by the processes of translatio in the fourteenth-century Ovide moralisé. From the point of view of a divine timelessness, the Christian truths and doctrine articulated by the moralizing readings of the Ovide moralisé were always already awaiting revelation by the prudent work of a pious translator. The Ovide moralisé understands itself as having been summoned by the injunction to understand all creation, including pagan literature, from a learned, Christian standpoint.
Résumé
À travers une lecture éclairée par les travaux de Derrida et Benjamin, l'article se penche sur la chronologie compliquée que proposent les processus de la translatio que l'on trouve dans l'Ovide moralisé, œuvre du XIVe siècle. Du point de vue de l'atemporalité divine, les vérités et la doctrine chrétiennes qu'expriment les moralisations de l'Ovide moralisé attendaient depuis toujours d'être révélées par le travail prudent d'un traducteur pieux. L'Ovide moralisé se montre comme une œuvre appelée par l'injonction de comprendre toute la création, y compris la littérature païenne, de la perspective d'un chrétien savant.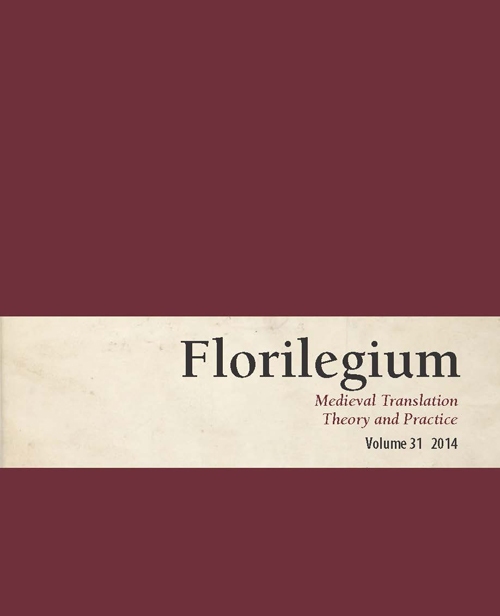 How to Cite
Griffin, M. (2017). The Time of the Translator in the Ovide moralisé. Florilegium, 31, 31–53. Retrieved from https://journals.lib.unb.ca/index.php/flor/article/view/25658