The Time of Translation in Wauchier de Denain's Histoire des moines d'Égypte
Abstract
For the full article, please visit Project MUSE or click here (subscribers only).   
This article explores the temporality of translation in Wauchier de Denain's Histoire des moines d'Égypte, an early thirteenth-century French rendering of Rufinus of Aquileia's fourth-century Latin Historia monachorum in Aegypto. Examining relationships not only between source and copy but also between the different narrative perspectives present in the text, Campbell explores the complex ways in which the only complete manuscript of the work presents these perspectives through prose and verse, French and Latin, text and image. She argues that the Histoire encourages reflection on the ways in which translation cultivates temporal as well as linguistic and cultural heterogeneity, an issue that has been given scant attention in translation studies.
Résumé
Cet article porte sur la temporalité de la traduction dans l'Histoire des moines d'Égypte de Wauchier de Denain, traduction française du début du XIIIe siècle de l'Historia monachorum in Aegypto composée par Rufin d'Aquilée au IVe siècle. En étudiant les rapports non seulement entre la source et la copie mais aussi entre les différentes perspectives narratives présentes dans le texte, Campbell examine la complexité des manières dont ce seul manuscrit intégral présente ces perspectives à travers prose et vers, français et latin, texte et images. Elle affirme que l'Histoire convie son lecteur à réfléchir sur les manières dont la traduction cultive l'hétérogénéité temporelle aussi bien que linguistique et culturelle, sujet plutôt négligé dans les études sur la traduction.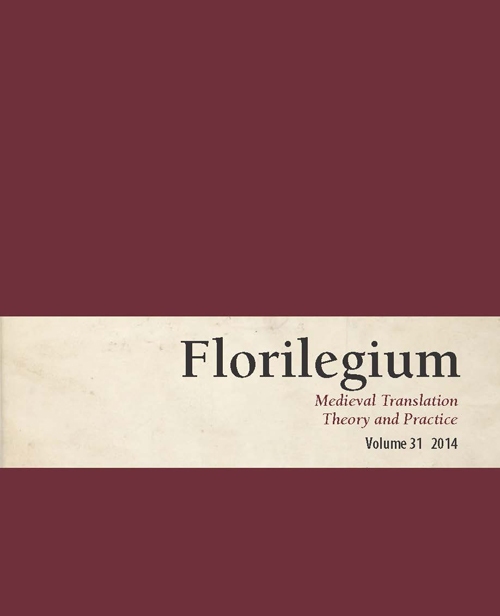 How to Cite
Campbell, E. (2017). The Time of Translation in Wauchier de Denain's Histoire des moines d'Égypte. Florilegium, 31, 1–29. Retrieved from https://journals.lib.unb.ca/index.php/flor/article/view/25657