5 Law purchased his paintbox in Quebec City in 1938 and took it overseas in 1940 and used it until 1949 (Fig. 1). In a letter dated 15 November 1977 to the Canadian War Museum Law writes:
I have taken the liberty to send you my old paint box…The box is in bad shape but it covers a lot of history.
I bought the paint box in Quebec City in 1938 and used it right up until 1949. The paint box travelled with me overseas in March 1940 — HMS Wolf July operating off Denmark Straits and Iceland. Paint box came to Motor Gun Boat 53 in 8 March 1941 — then to MTB 48 (my first command) to Dover 16 July 1941. Returned to Canada with paint box for 60 days Foreign Service Leave August to October 1942. Returned overseas with paint box and took command of MTB 629 operating from Yarmouth off the Dutch Coast. The paint box went through many serious actions off the Dutch Coast in MTB 629 until the end of 1943 when I went to London and became a War artist. In 26 January, 1944, I became senior officer of the 29 Canadian MTB Flotilla and commanding officer of MTB 459. MTB 459 received a direct hit from the La Havre shore Batteries. The paint box was saved and I got command of a new boat a few days later 5 August, 1944, MTB 486. Returned to Canada in March 1945 and became War Artist until 15 July 1946. The old paint box travelled with me until 1949 when I bought a new French paint box in Paris while on the Staff Course in U.K. The paint box had a hard life and is well used.
Clearly the paintbox was indeed an important item in Law's life, he writes about it with passion, regarding it not only as a tool to achieve his artistic vision, but also as a travelling companion during his naval service. He eventually gave this war-weary paintbox to a student but the student returned it to him so that it could be donated to the Canadian War Museum in 1977.
Structure and Function
6 The paintbox is a combined sketch box and slotted easel with telescopic legs. The multi-functional aspect of this paintbox design allowed Law to quickly record events of action at sea. It is portable and can be used for both indoor and outdoor work. This seems to be Law's preferred style of paintbox, since this style is seen in many photographs of Law painting outdoors. Law followed the traditional "plein air" style of painting pursued by the Group of Seven (Fig. 2).
7 The paintbox measures 44 cm wide, 36 cm deep and 6 cm high. It is constructed primarily of wood and metal, with a replacement handle made of jute. The top face of the cover is missing, including the front panel, which would have latched to the base of the box. The two triangular shaped wooden sections found at each bottom corner of the lid appear to be more recent additions. There is a metal plaque along the left side of the box, which is riveted to the box and has relief printing that states: OTHER WAY; CHICAGO; KEEP COVER ON BOX. The top lid, which now consists of only the easel frame and triangular wooden sections, is hinged and functions as an expandable easel, which can hold up to four panels measuring approximately 33 cm high, 39 cm wide and 6 mm deep. If the easel is expanded it can hold panels up to 66 cm wide.
8 The interior of the box consists of six crimped metal storage compartments to hold paints and tools and there is a ledge above the storage compartment to hold the palette. The palette is secured onto this ledge by slipping it face up under three small metal clips at the back of the box and moving two rotating clips over the front of the palette. The secured palette has sufficient clearance in the paintbox to avoid contact of any material with wet paint on the palette.
9 The bottom of the box holds three folding telescopic legs that can be extended and tightened when required and secured onto the bottom of the box with metal clips when not in use (Fig. 3). When extended to their full length, these telescopic legs support the paintbox to a height of approximately 94 cm and allow the artist to work in a comfortable standing position (Fig. 4). The legs also have metal stakes at the end of each leg, which can be used to firmly plant the legs in the ground (Fig. 5).
Fig. 3 Telescopic legs attached to the bottom of the paintbox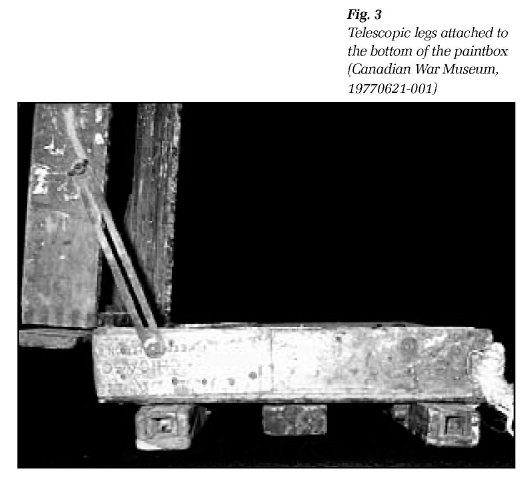 Display large image of Figure 3
(Canadian War Museum, 19770621-001)
Fig. 4 Telescopic legs partially extended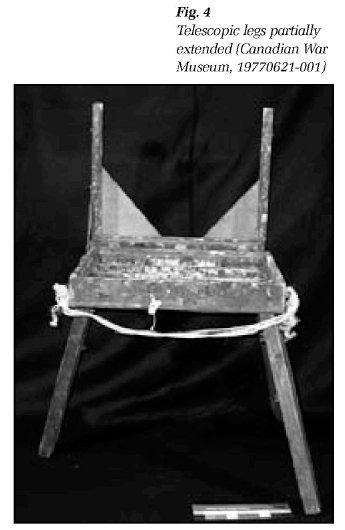 Display large image of Figure 4
(Canadian War Museum, 19770621-001)
Contents
10 The paintbox was not with Law, since he replaced it, until shortly before it was shipped to the Canadian War Museum but Law presumably placed some of his old tubes of oil paint and brushes in the box to make it as authentic as possible. He also made an effort to locate the original palette but states in a letter to the Canadian War Museum that it was destroyed. The contents of the paintbox include oil paints, brushes and a palette as follows (Fig. 6):
Raw Sienna (M. Grumbacher, New York)
Scarlet Lake (M. Grumbacher Inc., New York; on verso: Toronto, Canada)
Yellow Ochre (Winsor & Newton)
Vermilion (Winsor & Newton)
Cerulean Blue (Golden Palette, M. Grumbacher, Toronto)
Titanium White (Talens Oil Colour, Made in Holland)
Brushes
(front to back of compartment)

1. bristle brush 1/2"
2. bristle brush 1/8"
3. bristle brush 1/8"; M. GRUMBACHER GAINSBOROUGH Series 1271B
4. bristle brush 7/8"
5. bristle brush 1/8"; 1…SERIES 1271B
6. bristle brush 1/2"; WILTON; WINSOR & NEWTON LTD; MADE IN ENGLAND
Fig. 5 A metal stake at the end of the telescopic leg provides firm footing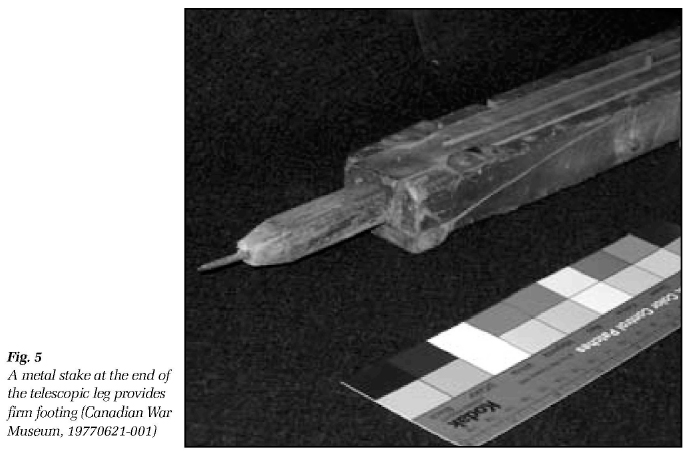 Display large image of Figure 5
(Canadian War Museum, 19770621-001)
Fig. 6 Paintbox with tubes of paint and brushes; A. Raw Sienna; B. Scarlet Lake; C. Yellow Ochre; D. Vermilion; E. Cerulean Blue; F. Titanium White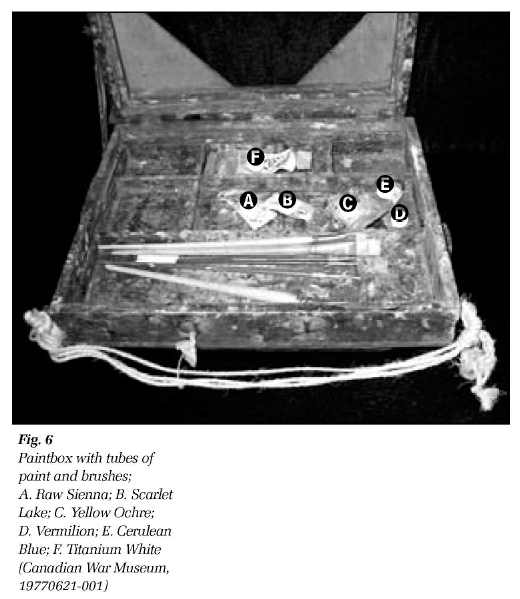 Display large image of Figure 6
(Canadian War Museum, 19770621-001)
Fig. 7 Numbers on Law's replacement palette correspond to visual pigment colours and small arrows indicate where samples were taken for future analysis; visual colours of paint: 1. white, 2. yellow, 3. brown, 4. orange, 5. yellow-brown, 6. red-brown, 7. brown, 8. black, 9. red, 10. red-brown, 11. blue, 12. light blue, 13. green.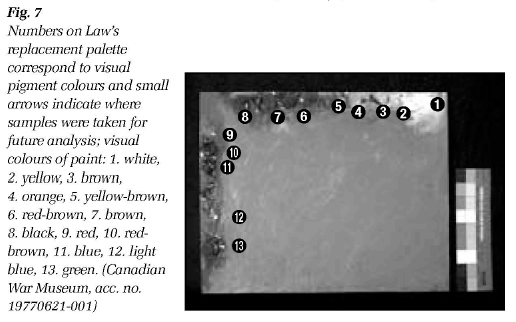 Display large image of Figure 7
(Canadian War Museum, acc. no. 19770621-001)
11 The original palette, which Law used with this box, was lost and has been replaced (Fig. 7). Law states: "Unfortunately, the palette was destroyed and I have made a new one for the box. In addition, I put the colours I use in my usual arrangement."
12 The replacement palette is made of rough, three-ply wood and measures 33 cm by 41 cm and is 6 mm thick. The oil colours found on the replacement palette indicate a series of warm hues along the top, horizontal side of the palette (includ ing white to the far right of the row and black to the far left) and cooler hues along the left, vertical side of the palette. From earliest times, when painting techniques were passed on from master to apprentice, they were conveyed in an orderly manner. Apprentices were taught to "set the palette" or arrange the colours in a particular sequence on the palette. This methodology was kept secret within artists' guilds and few manuscripts were widely available on painting technique. As published information on painting technique became more widespread and artists travelled and shared information, we find precise references to the preparation of the palette. One early published and illustrated account of "setting the palette" can be found in the De Mayerne Manuscript of 1620. It states that the lightest colours should be placed along the top and darker colours lower down on the palette. It is likely that Law was trained in such a traditional method of preparing a palette since there is a systematic and conscious application of colours on his palette. In consulting three colour photographs of the artist painting outdoors, this same colour arrangement is clearly visible on each palette and, additionally, he attached a small metal cup along the upper left edge of the palette, presumably to hold solvent. Law also put down a thin, grey, neutral tone scumble in the centre of his palette, which was allowed to fully dry. More accurate colour mixing is achieved on top of this layer. Tube applications of oil colours were placed along the top and left side of the palette.